Nutrition 101 Home
Physiology
of Nutrition
Lecture Series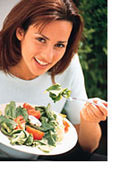 What Is Your Nutrition Style?
How often do you…
(Never, Sometimes, Often)
Talk with your doctor about your nutrition plan?
Bake, barbecue, broil, boil, or steam instead of frying foods?
Choose nonfat, 1% or skim milk dairy products?
Read labels to choose foods low in fat and calories?
Wait until you are hungry before eating?
Stop eating as soon as you are full?
Save a portion of a restaurant meal for later?
Add a new fruit or vegetable to your diet?
If most of your checks are in the "Often" column – Great!
If most of your checks are in the "Never" or "Sometimes" columns,
you may get a nutritional boost from changing your food habits.
Where would you choose to begin?