Nutrition 101 Home
Physiology
of Nutrition
Lecture Series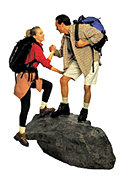 What Is Your Activity Style?
How often do you…
(Never, Sometimes, Often)

Talk with your doctor about your activity plan?
Find ways to add more activity to your every day life: using stairs, parking further away from buildings?
Do activities that use your large muscle groups and need steady breathing for a total of at least 20 minutes, 3X/week?
Consider a new reason to be active: connecting with others, being inspired, seeing something beautiful?
Try a new activity: swing dancing, yoga, gardening, in-line skating?
Choose activities that respect your body's strengths and limits?
Pay attention to your body, and stop exercising if you feel weak, nauseous, or breathless?
If most of your checks are in the "Often" column – Great!
If most of your checks are in the "Never" or "Sometimes" columns, you have an opportunity to boost your healthy activity level.
Where would you choose to begin?